How It Began
On August 1, 1971 Jim & Cleo Vickers purchased a small grocery store in Newport, Oregon, moving there with their four children. The store was located next to the current store, facing north.

Jim had over 23 years in the grocery business and had a dream to own and operate his own store. He believed in service and being an active part of the community. These ideas were well accepted and Jim & Cleo grew the business to the current JC Market location in 1979.

Today, JC Market is continuing the Vickers' family philosophy of service and community participation with daughter, Diane Vickers Mattson, son, Steve Vickers, and manager, Lyle Mattson (Diane's husband) overseeing the store's operation.

Locally owned and operated to the highest standards possible is JC Market's ongoing goal.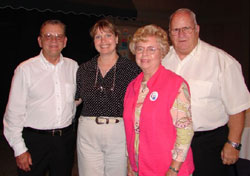 Founders Jim & Cleo Vickers (on right);
2nd generation Diane & Lyle Mattson (on left).